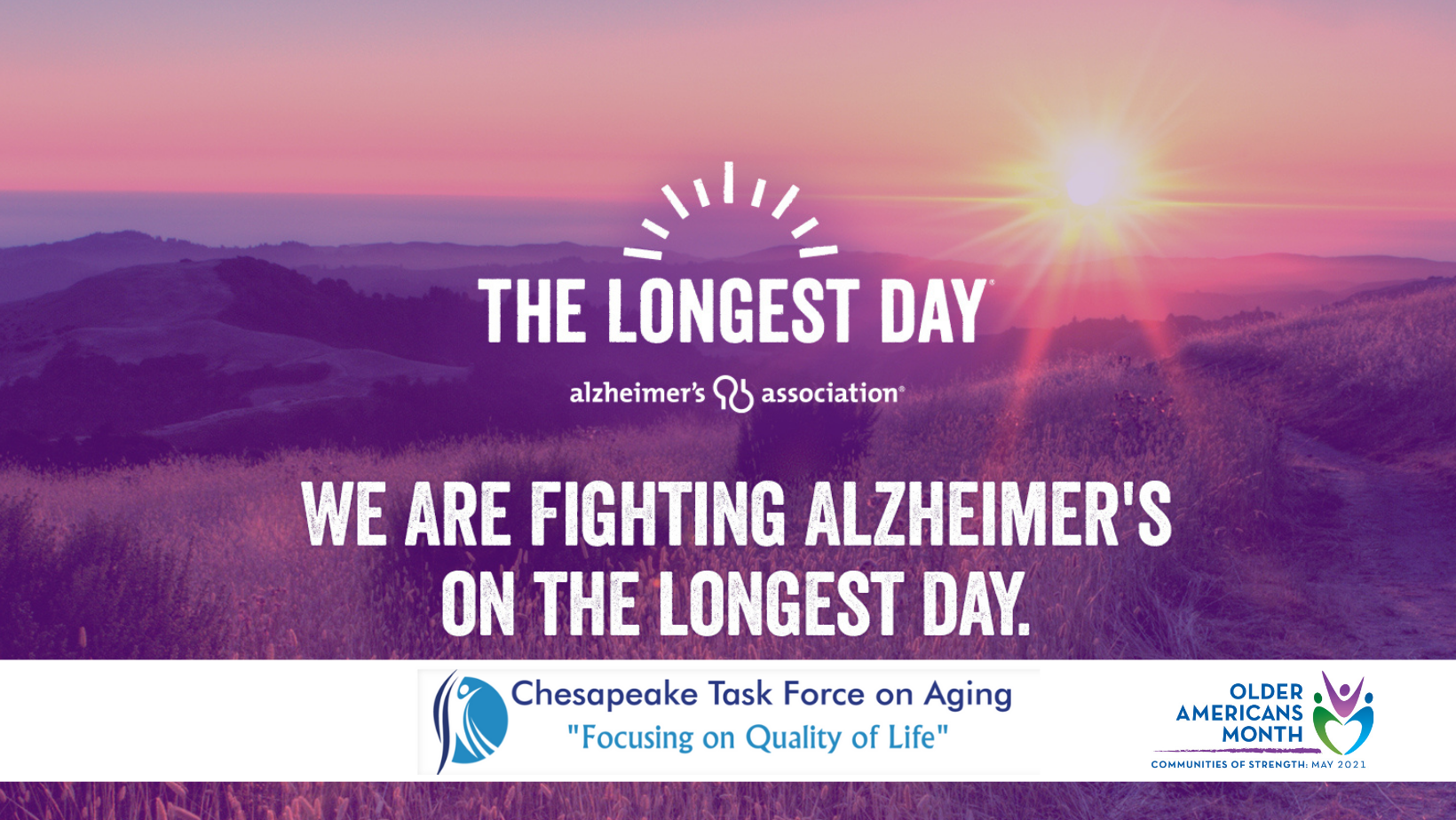 CTFOA is celebrating Older Americans Month




by doing Good Deeds to raise money for the Alzheimer's Association.
MAY 15-31 2021
DID YOU KNOW?
- In the United States, over 6 million individuals are currently living with Alzheimer's and another 11 million individuals are providing unpaid care.
- In Virginia alone, over 150,000 individuals are currently living with Alzheimer's disease and 349,000 individuals are caregivers.
- 1 in 3 seniors dies with Alzheimer's or another form of dementia.
---


CTFOA is joining in the fight against ALZ!


During our "The Longest Day" Fundraiser, not only are we raising money to fight Alzheimer's, but we're also spreading awareness of The Chesapeake Task Force on Aging and the older adult population we serve…
all while inspiring others to do good.
How Can You Help?
1. Sign up to be a Good Deed Doer!
What's a good deed? It can be as simple as sending a card to a Senior in a nursing home, paying for a cup of coffee for the person behind you in line, you could mow the lawn of an elderly neighbor, or offer to help with a task around the house. It's up to you! Get a list of ideas to get your juices flowing.

Sign up here to be a Good Deed Doer. Feel free to share this link with your friends and family...you don't have to be a CTFOA member to do some good deeds!

When we receive a donation, we'll go down our list of Good Deed Doers and notify you when you're up to do a good deed!
After you've done a good deed, tell us about it here.
Don't be shy! Share your photos & videos of doing good deeds on social media and tag CTFOA. Get creative and keep paying it forward! For instance, post a video about the good deeds you did, donate $10 or more to our fundraiser for ALZ, then challenge your friends on Facebook to do some good deeds!
Social Media Hashtags
#ctfoa4alz
#gooddeeds4alz
#oam2021
#endalz
2. Donate to our ALZ fundraiser
Your generous donation made to help fight Alzheimer's will "Pay it Forward with Good Deeds"! For every $10 donation, our CTFOA members (or their friends & family) will do a good deed. Donate here.
T-Shirts!
If you would like to receive The Longest Day 2021 T-Shirt in addition to sending a good deed, go to act.alz.org/goto/CTFOA and click "Join Our Team." When you make a $10+ donation during registration you will have a T-Shirt mailed to you within a few weeks. Please note, you must make your $10+ donation during registration in order to receive the T-Shirt. If you have any questions please contact Emily at emrosenberger@alz.org.
---
Fundraiser Goal
Our fundraiser goal is $1600...that means 160 Good Deeds will be done too! CTFOA is kicking off the fundraiser with a $160 donation and our Board Members will do the good deeds.
Join us in our fight against ALZ with Good Deeds!